Annual Trends Reports
14 Trends for 2014
December 2013
As the short-order trend observer becomes ubiquitous, trend master chef Marian Salzman, an award-winning trendspotter of two decades and CEO of Havas PR, provides her unique insights with a penetrating focus in 14 forecasts for 2014. Pope Francis' master branding, boomers rethinking the meaning of life to an unparalleled degree, the age of millennials being truly upon us—it's all in Salzman's annual trends report. Her methodology, pattern recognition, has been responsible for the launch or popularization of trends ranging from singletons and metrosexuality to hyperlocalization.
Here are previews of four predictions from the book:
1. #Artisanaleverything There's infinite scope for crafted products—more than ever, people are valuing authenticity over mass-produced blandness.
2. #Innerspace #NewFrontier Scientists are exploring effects of the body's microbiome—and it's becoming a solid approach to tackling myriad health issues.
3. #MINT #TheNewBRIC Growth in the BRIC countries is stalling; look to a new power group—Mexico, Indonesia, Nigeria and Turkey—to freshen a stale global economy.
4. #mPOS #ItsWhatsGlobal It has been almost two decades since online banking and e-commerce ascended in popularity—now it's mobile payment systems' turn.
What's Next? What to Expect in 2013
December 2012
An aggregation of public and private forecasts from world-renowned trendspotter Marian Salzman, CEO of Havas PR North America, and her team, What's Next contains more than 150 predictions in 30 categories for 2013. The methodology Salzman employs—pattern recognition—has launched or popularized trends ranging from singletons and metrosexuality to food fear and globesity.
Here are previews of three predictions from the book:
For Education: Watch for a rethink on ages and education: an end of higher education at 18—and the beginning of life apprenticeships that take people from 19 to 29 and prepare them for lifelong reinvention. People will delay entering the workforce by staying in school, taking nonpaying internships or seasonal work, and using life as a classroom.
For Home Life: The recent couch-surfing fad has given birth to a bona fide trend as a business model: airbnb. Although no hotel chains are probably feeling the pinch from the success of local hosting in every city and town planetwide, this exchange program for adults is sizzling, and it marries two mini trends: Earn cash at home and collect experiences.
For Tomorrow's Money: Gift cards and PreCash cards seem to be overtaking stores as we become more comfortable giving people prepaid shopping as a thank you or to celebrate a milestone.
Click here to download a copy of the e-book What's Next? What to Expect in 2013.
The Big Little Book of Nexts: Trendspotting for 2012
November 2011
What will make the world tick in 2012? And might that ticking sound more like a patient, plodding grandfather clock or a time bomb? According to Marian Salzman, it depends on whom you ask. Salzman, CEO of Euro RSCG Worldwide PR, North America, and one of the top five trendspotters in the world, digs deep to look for social patterns, then applies everything to where the future is headed, in cultural, political, technological and economic matters. For 2012, Salzman has created her biggest annual trends report ever, with more than 150 trends sighted in 32 categories, from Asia and Modern Life to Color and Grooming. Here is just a peek at what's in this year's report, which you can download with the button below:
The U.S. State of Mind. Politics will reach a boiling point with more protests, most likely organized and cross-promoted on social media.
Re-feathering the Empty Nest. Recent college grads, the biggest casualty of the dire job market, look for Mom and Dad to come to the rescue. Likewise, seniors will choose to move in with their grown children.
Double-Dip Frugality. Look for 2012 to be the year of essentials only. Pop-up stores will continue to soothe by offering one-off items without the sticker shock, and brands will look to co-produce products and lines.
Be Private, Be Present. Experiencing full-blown information overload, many will rediscover their need for privacy. We will still expect our leaders and businesses to be transparent, but in our personal lives look for a retreat en masse from TMI.
11 Trends for 2011
November 2010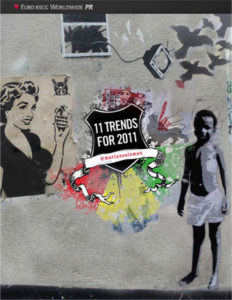 "More people are leaning toward political extremes than ever, and anger will continue to grow based on that sphere and others," said Marian Salzman, president of Euro RSCG Worldwide PR, North America, when she released her annual list of trends. "But we've also seen many people react to this anger, segregation, and perceived or real loss of control by doing a 180 and becoming even more interested in relationships than possessions and learning how to be more self-sufficient." Below are four of the trends on her list, tweet-style because of the importance social media plays in many. Click here or on the button below to read her in-depth forecast of all 11 main trends and two dozen "Future Bytes."
Public Mycasting System. Broadcast news: dead. Mycasting emerges. People curate interactive content, expressing their worldview in images, shared links, tweets.
Yes, We Can…Reinvent Ourselves. "Change": Slogan no more, it's becoming a way of life 4 many. Volunteering or forced into it, boomers+ are tapping the U.S. can-do spirit.
Separated at Worth. Pay & compensation are now confused & big $$ smells rotten. Emo (emotional) bling—friends going the extra 10 miles—will replace cash wealth.
Gender Bender. Masters of all they survey no more, men will have 2 adjust 2 treatment women have long endured: shown as sex objects or selfless homemakers.
11 Trends for 2011
December 2010

Want to see a powerful presentation of Marian Salzman's 2011 trends forecast? Click below to download a PowerPoint that hits on all 11 major trends from this year's report with arresting visuals and text—and answers FAQ about trendspotting in general and about Salzman's annual trend reports.
16 Social Media Trends for 2011
December 2010

One thing is for sure: Social media is changing the world, and we often feel powerless in the face of its constant morphing. This PowerPoint presentation puts the future into perspective with a look at 16 trends Marian Salzman sees in SoMe for 2011, from the farthest reaches of connectivity to doing good on social media.
Teen Trends for 2011
December 2010

You've heard about going green; Marian Salzman predicts that in 2011 the world will be "going teen." Click below to see her top five teen trends for the coming year, from how companies across the planet are trying to reach the elusive teen market and how young consumers will use their power responsibly to the increase in online learning, which will help prepare today's youth to compete in a challenging global economy.
Trends for 2010
December 2009

When Marian Salzman, president of Euro RSCG Worldwide PR, North America, and industry-renowned trendspotter, released her annual list of trends this year, she noted that social media would be a key driver in all of them in 2010. "Companies have begun paying attention to, and actively engaging in, social media," she said. "As this continues, what began as a campaign strategy for Barack Obama might prove to define next year's version of total convergence, and a further blending of business roles and responsibilities." Click on the button below to read her in-depth forecast of these trends and others:
Lines That Zig but Don't Zag. Hyperpolarization and the independents who will bridge the divide between political adversaries.
Beware the Mobmedia. The emergence of mob mentality and virtual bullying over pressing political and pop culture issues in the social media sphere.
A Children's Place. Children being exploited as prime-time props and brand trailblazers.
No Piggy in the Bank. The employment of creative fundraising tactics for nonprofits and startups as a result of the current economic climate.